Shaft copying systems
Safe, precise, robust
Travel height up to 392 m
Safety: SIL3 certified
Dynamic: Travel speed up to 12 m/s
Precision: Resolution up to 0,5 mm
Direct: Absolute positioning
Go to Product Finder
Absolute positioning of the elevator car for travel heights up to 392 m.
The contactless absolute measuring system for shaft copying – also called shaft information or positioning system – has an extremely compact, very robust design. In addition to the sensor, which detects the position of the elevator car 100% slip-free, it also includes the appropriate evaluation unit, a so-called Position Supervisor Unit (PSU). The safe system therefore consists of a SIL3-certified sensor and a suitable evaluation unit. This enables elevator and safety functions to be implemented in accordance with EN 81-20/21/50.


Reliable determination of position and speed values
---
Kübler offers various sensors for this purpose. The Ants LEB02 serves as a classic shaft copying system for precise positioning of the lift car. The SIL3-certified Ants LES02 and Ants LES03 sensors can also be combined with various evaluation units from Kübler. The sensors from Kübler are particularly characterised by their compact and robust design.
Safe systems for the realization of safety functions
---
In addition to sensors for safe position and speed detection, Kübler also offers the appropriate evaluation units, also known as Position Supervisor Units. In this way safety functions can be implemented in accordance with EN 81-20/21/50. Kübler Safe systems thus make a significant contribution to the digitalisation of lift systems. Numerous mechanical components such as limit switches or even the classic overspeed governor can be eliminated. This saves space, time and costs.
Safety functions without triggering electromechanical safety gear
SIL3-certified sensors with suitable evaluation unit or position supervisor unit for the realization of lift and safety functions according to EN81-20/21/50, e.g. limit switch, inspection limit switch, UCM
Elimination of numerous components
Simple and quick installation
Space-saving design
Smart teaching functions.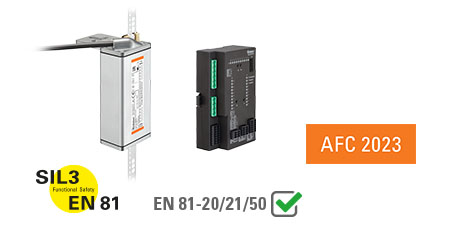 All-In-One Concept
Further safety functions can be implemented
Integrated release of the electromechanical safety gear
Numerous additional features
Reduced cabling effort
---
Saves time and costs
One of Kübler's unique selling points is its ease of mounting. Using carabiners, the stainless steel band can easily be attached to the respective mounting set via "plug & play". In the shaft pit, the belt is pretensioned by a spring. The essential installation instructions are available both on the strip packaging and directly on the sensor. No more tedious scrolling through user manuals or searching in PDF files.
Suitable for the tightest spaces
The extremely compact design not only saves space but also costs. Especially for elevators with reduced shaft head, shaft copying from Kübler offers benefits. It is possible to mount the sensors on, next to, or under the cabin.
Reliable and durable
The robust stainless steel band with its rounded edges is mounted directly to the guide rails using a mounting set. It can neither be influenced by temperature fluctuations nor by magnetic influences during mounting, such as the use of magnetized screwdrivers. The code is punched into the stainless steel strip. As a result, Kübler dispenses with additional gluing processes and thus ensures maximum robustness of the strip in the application.
Precise positioning
Loss of absolute position or correction of position by reference switches (magnetic vanes) is a thing of the past. With Kübler's shaft copying, the position of the elevator car can be determined 100% slip-free. The sensor is mounted directly on the elevator car and can directly determine the absolute position without additional reference markers in the shaft. Slippage of the cable at the drive has no effect on the measuring result. The sensor system is an absolute value system which can record a unique absolute position value at any point of the code band.
Reduce total costs
With the SIL3 certified Position Supervisor Unit (PSU), evaluation unit, or Safe Box, elevator and safety functions can be realized in accordance with EN 81-20/21/50. These include emergency limit switches, UCM (Unintended Car Movement), inspection limit switches, overspeed inspection, or door bypass. Kübler's safe system allows numerous existing components in the elevator shaft to be eliminated, such as limit switches, magnetic vanes, reference switches, or door zone magnets. In addition to procurement costs, this saves installation and maintenance time.
---
Easy installation - Ants shaft copying systems - english
Installed in the elevator shaft in just a few steps. Your benefits - cost and time savings over the entire length
Realization of elevator and safety functions EN81-20/21/50 - english
Two examples will show how the Ants shaft copying system in the Safe System variant realizes these elevator and safety functions
Portfolio Ants shaft copying systems - english
Absolute and safe positioning of the elevator car up to 392 m. We present you the benefits of the Ants shaft copying systems.We present you the advantages of the Ants shaft copying systems as well as when and where Base, Safe or Safe System variants are used
Concept Study: electronic overspeed governor - english
This Concept Study presents a further evolutionary step in elevator technology: The mechanical overspeed governor can be replaced by SIL3-certified sensors from Kübler.
Predictive Maintenance with Kübler shaft copying systems and encoders - english
Sensors play an essential role in Predictive Maintenace. We show you what the future could look like and which measurement data Kübler provides
Concept Study: Smart Teaching Unit – Easy teaching of the evaluation unit - english
With this innovation, the evaluation unit or shaft copying system is teached in quickly and easily via an intuitive web interface for desktop and mobile devices.
---