Slip rings for bottling plants
Reliable and custom
Slip rings

–

custom solution
Transmission of power, signals, and data
Parallel transmission of fieldbus and Ethernet
Media lead-through for hydraulics and pneumatics
Innovative contact technology

–

maintenance-free
Sturdy design

–

durable
Request custom solution
Reliable transmission of power, signals and data.
In high-efficiency bottling plants, the individual process steps are usually arranged on carousels. There are specific requirements for each work step at such a bottling plant when it comes to the transmission of electricity, data, compressed air or fluids to the rotating platform. In addition, the individual plant parts are digitally networked with each other and are based on a fieldbus or Ethernet communication.
With many years of experience in the field of transmission technology, Kübler offers a modular technology system for slip rings. So that you have maximum flexibility in selecting your slip ring. Kübler slip rings are made with the highest quality awareness and carefully selected materials. In addition to transmitting electricity and signals, parallel data for the fieldbus and Ethernet communication is also reliably and quickly transmitted with a high data transmission quality. Combined with a media lead-through, the slip rings also reliably and safely transmit fluids and gases (hydraulic and pneumatic). Not least, the high degree of protection and the aluminum or stainless steel housing are also noteworthy features of Kübler slip rings. We face every challenge: We implement modifications and special solutions quickly and easily for you.
The right slip ring for every process step
Transmission of up to 80 A and more ...
In this process, finished PET bottles are made from special plastic blanks. Kübler slip rings ensure a reliable signal and data transmission for control and regulation tasks. For example, the slip rings SR160 and SR250H are used here. The slip ring SR160 is characterized by its high level of flexibility when it comes to mounting and connection possibilities. The slip ring SR250H is the ideal solution for a high load transmission of up to 80 A and more.
Hygiene is essential
There can be no mistakes here. Hygiene and bottle quality are top priority. Every bottle is cleaned and checked for leaks and foreign bodies. Kübler slip rings meet high hygienic requirements and can be selected with a degree of protection of up to IP67. In this process cycle, individual units are supplied with power, signals, data and fluids or gases. In addition, a reliable Ethernet transmission is important here too.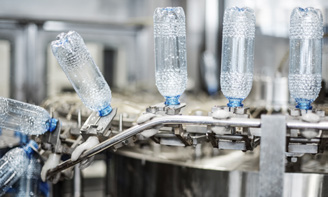 Quick and constant throughput times
The core process of any filling plant. Every bottle is quickly filled precisely to the millimeter. The properties of the Kübler slip rings are needed here. Because for such highly-dynamic rotating platforms, a smooth and permanent use is essential to increasing the efficiency of filling plants. Kübler slip rings are used here for the interference-free signal transmission and Ethernet data transmission. In addition, the carousel is supplied with power via the slip ring. The Kübler slip rings SR120 and SR160 are available to meet your needs.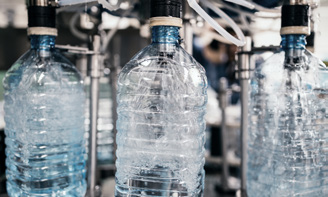 Put the cap on and you're done
The bottles are sealed immediately after the filling process and are ready for the last process step. Kübler slip rings ensure a reliable electric power supply of the individual sealing stations and a fault-free signal and data transmission for control tasks. The slip rings SR120 and SR160 are available for you to choose from.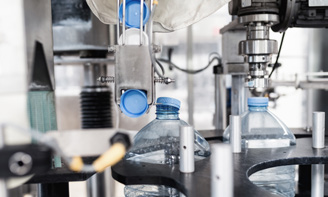 Label efficiently and reliably
This is where bottles get their identity. The pre-made label must be attached accurately and at lightning speed. The various types of drive technology used must be reliably supplied with power. In addition, control data for the individual labeling stations must be transmitted without fault. The Kübler slip ring SR120 is the right solution for this application.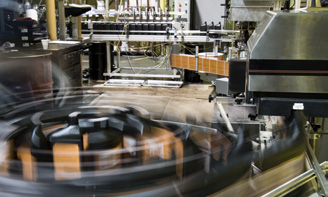 Example slip rings for filling plants
---
Are you looking for a reliable solution for transmitting power, signals and data? Then our slip rings are the ideal solution. Leading manufacturers have been using Kübler slip rings for years and value the high adaptability, the quality of data transmission as well as the maintenance-free use. With Kübler, in addition to a reliable transmission, you also ensure a high system availability of your systems.
Your application is our priority
We are happy to take on custom challenges. Describe your application to us. Together we will find the right solution. We look forward to your inquiry.