Regulation of the angular position of parabolic trough systems
Reliable and durable
Absolute rotary encoder
Inclinometers
Linear measuring systems
Sturdy design for a long service life
High degree of protection up to IP69k
Wide temperature range -40° ... +85°
Request custom solution
Optimally aligned with the sun – with Kübler sensor solutions.
A parabolic mirror's curved surface concentrates solar energy onto a receiver tube arranged in the focal line. This energy heats oil flowing in the tube, which then produces electricity in a steam generator. Hundreds of these parabolic trough systems are arranged on large fields in parallel rows along a north-south axis, focusing the sun's rays. It is only possible to efficiently produce power with an optimal angular position of the parabolic mirror. Kübler offers various sturdy, highly accurate and flexible sensor solutions for this application: from compact encoders to optically-precise encoders to linear measuring systems and inclinometers. We gladly also face individual challenges and implement modifications and special solutions quickly and easily.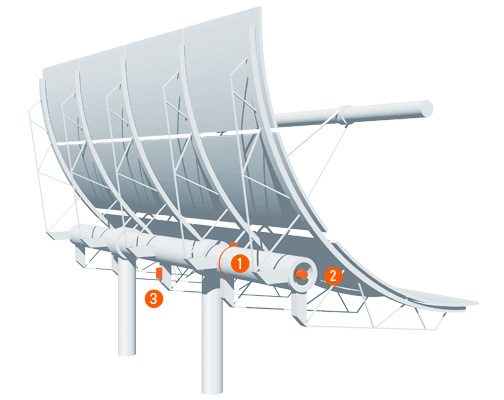 ---
Your application is our priority
We are happy to take on custom challenges. Describe your application to us. Together we will find the right solution. We look forward to your inquiry.