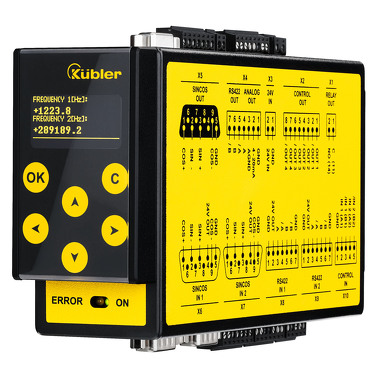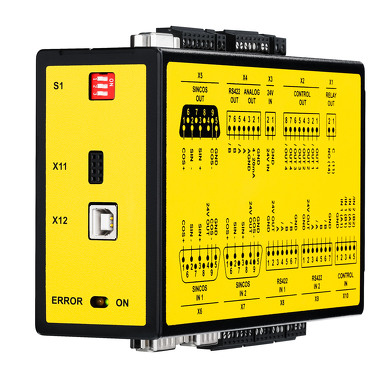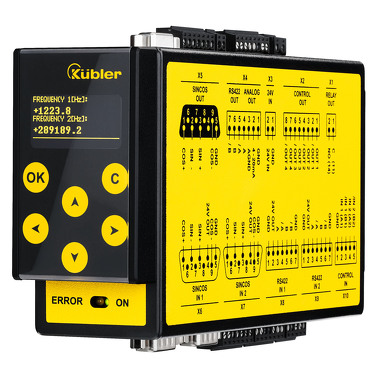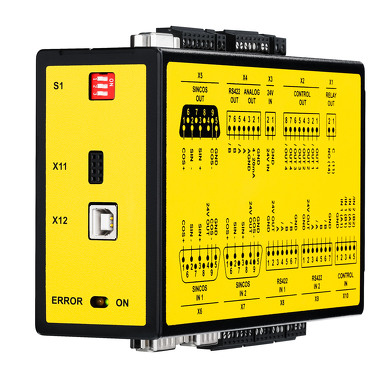 Safe speed monitors
Safety-M compact SMC2.2
Integrated signal splitter
USB interface
Removable operating and diagnostic display




---
SIL3/PLe security module for safe speed monitoring with two (different) encoder systems
SMC2.2 is a compact safety module in the Safety-M family with integrated drive monitoring for one axis with two (different) encoder systems. This standalone speed monitor (base module) does not require an additional safe PLC.
Safety-M compact is perfect for integration into existing safety circuits or for upgrading old machines. Solutions with two sensors (HTL/proximity switch, RS422, SinCos) are supported for reliable speed detection.
Mechanical
Dimension
50 mm x 100 mm x 165 mm
Working temperature
-20 °C ... 55 °C
Protection level
IP20

Connection types
Screw terminals
Sub-D connector
Plug-in terminals

Electrical
Safe digital inputs
4/2
Safe digital outputs
8/4
Safe relay outputs
1
Number of encoder interfaces
2
Interfaces
Analog 4–20 mA
Gegentakt
TTL / RS422
SinCos
1 x Relais
HTL

Supply voltage
24 V DC

Safety-M compact SMC2.2
The integrated signal converter and splitter allows an easy connection of controllers, which can operate using the same encoder system. It offers in addition the possibility of issuing an analog rotational speed value, e.g. to replace tachometers or similar.
The device can be parameterized with a removable control and diagnostic display or with the PC software "OSxx". This way, setting and diagnostic can be performed conveniently at the office PC or totally and easily using the intuitive touchpad display in the field.  
Extensive library of pre-configured safe sensors and command devices. This allows easy parameterizing without programming.
Complete range of speed-related safe drive monitoring functions equivalent to EN 61800-5-2 already integrated in firmware (e.g. SOS, SLS, SSM, STO).
Different encoder interfaces for TTL/RS422, SinCos and HTL/Push-Pull/proximity switch, for a wide range of sensors that can be freely combined.
Integrated signal splitter for SinCos signal forwarding (optional). No complex, interference-sensitive external wiring when the controller is to use the same signals.
The signal converter can issue the encoder signal as SinCos, TTL/RS422 or as a 4 ... 20 mA analog value.
Snap-on installation on 35 mm C profile rail.
4/2 safe input lines, 8/4 safe shut-off channels, 1 safe potentialfree relay open contact.
Contact multiplication or increase of power capability by external contactors in connection with the device-internal monitoring function for external contacts (EDM).
LED on the front side indicates operating state.
Removable control and diagnosis display (optional).
Free "OSxx" parameterization software.
Accessories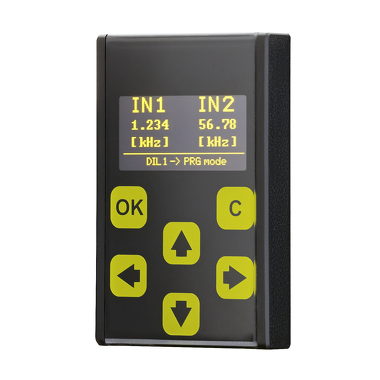 Display and programming unit
For Safety-M compact.
Actual value display for speed and direction of rotation.
Parameterizing tool for changing device parameters.
---
"Do you have technical questions about functional safety or are you looking for individual solutions? I would be pleased to help you."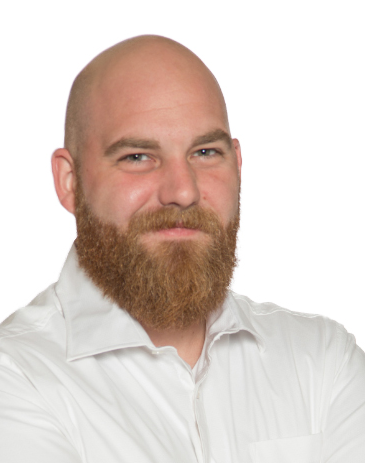 Zachary Copley
Application Engineering



"We will be pleased to give you information about prices and delivery times. We are looking forward to your inquiry."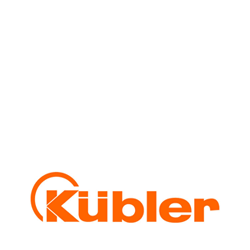 Kuebler Inc.
Sales