Encoders and slip rings for Industry 4.0/IIoT concepts
Products
15 January 2020
Compared to the current automation world, which is mainly device-oriented, Industrie 4.0 offers a holistic system view. Furthermore, the technology enables manufacturer-independent access to device data, additional standardised services and simplified device administration. Sensors such as encoders and slip rings play a decisive role here. Kübler uses various use cases to show which additional tasks can be taken on in addition to the pure recording of speed and position by rotary encoders and the transmission of current, signals and data by slip rings. Connectivity, identifications, diagnostics and adaptability - from Kübler's point of view these are the characteristics that an Industrie 4.0 product should have.
Encoders - Industry 4.0 ready
Which Industry 4.0 functionalities an encoder needs to be "Industry 4.0 ready" depends on the overall concept. The decisive factor is the role assigned to the encoder. Either as an independent Industrie 4.0 object (asset) or as part of it. This determines whether the encoder must have its own management shell or is integrated into an existing management shell. an encoder with its own management shell not only has functions at the "field level", but also at the "control level" and even up to direct edge communication. In the highest configuration level, we speak of an Industrial Ethernet encoder with integrated web server and additional OPC UA protocol, for example. As a use case, for example, the commissioning of a drive axis with Industrial Ethernet encoders can be simplified thanks to the electronic nameplate. All information about the operating range, maximum speed, maximum temperature and the installation location of the motor and encoder is available and can be called up here.


Slip rings - Industry 4.0 enabler
Slip rings are highly integrated components of complex machines. They can therefore provide a particularly large amount of reliable information about the machine condition and maintenance requirements. Kübler therefore uses slip rings as "Industry 4.0 enablers" and has integrated sensor systems into its smart slip rings for this purpose, without taking up additional valuable installation space. The precise measurement and monitoring of axis movements, vibrations and temperature, coupled with the storage of lifetime histograms, provide all the necessary information for condition monitoring. As a use case, the slip ring is available as a Product-as-a-Service. In this case the slip ring is offered as a service or Kübler ensures that a reliable transmission of power, signals and data is permanently guaranteed. Thanks to integrated sensor technology, additional condition variables are recorded and used for condition monitoring and lifetime histograms. This ensures high plant availability, as maintenance is detected in good time. Industry 4.0 is becoming reality and Kübler offers suitable solutions for this.
I am pleased to answer your questions
---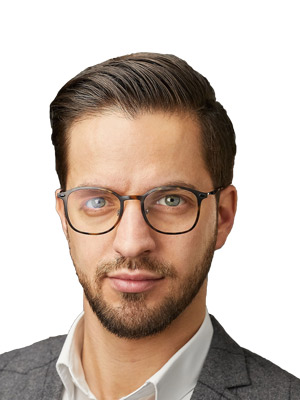 Filippo Zerbo
Leiter Marketing Kommunikation
+49 7720 3903 80
filippo.zerbo@kuebler.com
Picture gallery
---