IO-Link encoders, draw-wire encoders and displays
Products
05 March 2021
IO-Link is becoming more and more established on the market - and the trend is rising. Today, IO-Link is used in machine tools, production lines, intralogistics and packaging machines. IO-Link stands for simplicity, cost reduction and as an entry point to implement future Industry 4.0 concepts. This is why the sensor and counting technology specialist Kübler is expanding its portfolio with IO-Link products.
Magnetic single- and multiturn encoders with IO-Link
Based on the compact Sendix M36 with a size of 36 mm available as shaft or hollow shaft, Kübler is expanding this product family with the IO-Link version 1.1 in accordance with IEC 61131-9. The new IO-Link encoders from Kübler are divided into two profiles: the Smart Sensor Pofil and the Kübler Standard Profile. Added to this are the extensive diagnostic options that enable remote maintenance of the encoders as well as firmware updates via IO-Link and according to IO-Link specifications can also be carried out. Sendix M36 magnetic encoders are based on energy harvesting. This makes this product particularly cost-efficient compared to optical encoders. Like all Sendix encoders from Kübler, these stand for high robustness and reliability thanks to the robust bearing structure in Safety-Lock™ design. This makes the encoders resistant to shock, vibration as well as installation errors. The encoders are available with a high degree of protection up to IP67 and are always reliable in a temperature range from -40°C to +85°C.
Portfolio of IO-Link Draw-wire encoders up to 42.5 m measuring length
Kübler combines its new IO-Link encoders with reliable draw-wire mechanics. New draw-wire encoders expand Kübler's already broad draw-wire portfolio. The wire rope hoist portfolio from Kübler is divided into 4 performance classes. The Performance and Compact Lines include the new Draw-wire encoders with IO-Link encoders. The measuring range extends from 0.3 m to 42.5 m and offer practical solutions such as fixed and interchangeable mounting of the encoders on the wire rope hoist mechanism, as well as various rope types and rope attachments. Another feature that can be traced back to the IO-Link encoders, but has a special application in wire rope hoists, is the limit switches for position and speed.
LCD display and process devices with IO-Link
Also new and soon available from Kübler is the IO-Link - LCD Touch display 573T-IO. This display also offers an interface according to IO-Link version 1.1 in accordance with IEC 61131-9. Another feature of this display is that two measured values can be shown simultaneously on the display. Easy operation even with gloves is possible thanks to the touch display. Plain text programming can be performed via the touch display and another special feature is the color switching to green, yellow or red of the display.
I am pleased to answer your questions
---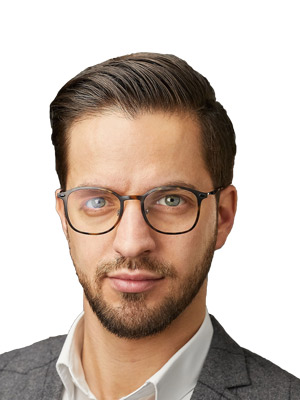 Filippo Zerbo
Leiter Marketing Kommunikation
+49 7720 3903 80
filippo.zerbo@kuebler.com